Anagram Balloons

Anagram International is the world innovator and leader in foil balloon manufacturing.
Founded in 1977, and part of the Amscan family of companies since 1998, Anagram offers products from a large and growing portfolio of prestigious licensors, including Disney, Hasbro, Lucasfilm & DC Comics.
Innovative Anagram products introduced to the market include Airwalkers, Sing-a-Tune and Supershape balloons.
Why Amscan?
We're often asked why the company is called Amscan. It's very simple; our founders were American and Scandinavian, hence Amscan.
That was in 1947, and since then we've grown substantially, with over 2000 people now employed in our worldwide wholesale divisions.
Worldwide
Amscan sales, warehouse and manufacturing facilities are located across the world. That means we're never far from our customers and can offer a fast, knowledgeable and localised service.
Our UK headquarters and showroom are both located in Milton Keynes. Amscan Inc.'s other worldwide locations include our corporate headquarters in Elmsford, NY, as well as our locations in China, Canada, Germany, Japan, Mexico, and Australia.
Inclusive of the UK, we have seven state-of-the-art distribution centres throughout the world and further showrooms in New York, Atlanta, Dallas, Las Vegas, Toronto and Hong Kong.
With six manufacturing facilities in America, as well as others in Asia, Amscan UK is strongly positioned to deliver fantastic value and efficiencies to our customers.
Amscan is owned by Party City Holdco Inc, a listed company on the New York Stock Exchange.
Retail Operations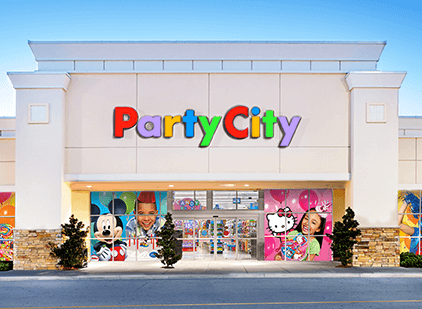 With 800 Party City retail stores across the USA, Amscan has a wealth of knowledge to offer our customers.
Building On Success
Amscan is comprised of Amscan Inc., Grasslands Road, Anagram International (the largest manufacturer of metallic balloons in the world), Ya Otta Piņata (a leader in the piņata industry), and retail stores under the brand names Party City, Factory Card & Party Outlet, Halloween City, and The Paper Factory.
In February 2011, Amscan acquired dress-up firm The Christy Group in the UK and renowned party supply company Riethmuller in Germany, both prestigious firms with long histories.
Riethmuller has been family-owned for five generations since it was founded by Carl Riethmuller in 1855, while Christys was formed during the reign of George III in 1773 as a manufacturer of quality hats. It has since been run by eight generations of the Christy family and now produces high quality dress up costumes.
Corporate Responsibility
Anagram believes in sustainable manufacturing practices as well as safe consumer use, and therefore partners with The Balloon Council and other organizations to promote consumer safety and environmental sustainability.